I have always felt a need to explain to strangers and even friends about Hailey's struggles. I have always felt I needed to justify why she was cranky, not eating food and only her formula, sitting in her stroller, or simply, watching an iPad to calm her down.
I felt I had to explain- to defend why she was sitting where she was, or how could we as parents let her watch so much of her favorite show.
For once in our two and a half year journey navigating Hailey's life, all it took was to be surrounded by people who just got it. They too, had been where I was or they too, have just started navigating these uncharted waters.
A cranky child, vomit after eating, a meltdown…nothing fazed these extraordinary people who have lived in a virtual space for this period of time, and now, were right in front of my very eyes. A simple nod, a look into my eyes, acknowledging that it was all going to be ok.
There were so many moments when the flood gates opened. All it took was someone saying my name. "Michelle…" we locked eyes, hugged, and we both cried. We had spoken on the internet, exchanged information about our stories, but never met until this moment. It was an instant overwhelmingly indescribable moment. I felt comforted, loved, safe, but mostly, understood.
This happened on repeat. And the tears came. The hugs continued. The love was felt.
This was so beyond needed, for the soul.
I have met so many of these families on the internet, seen pictures, exchanged messages, but being in the same room with them and understanding one another, felt like an unearthly experience.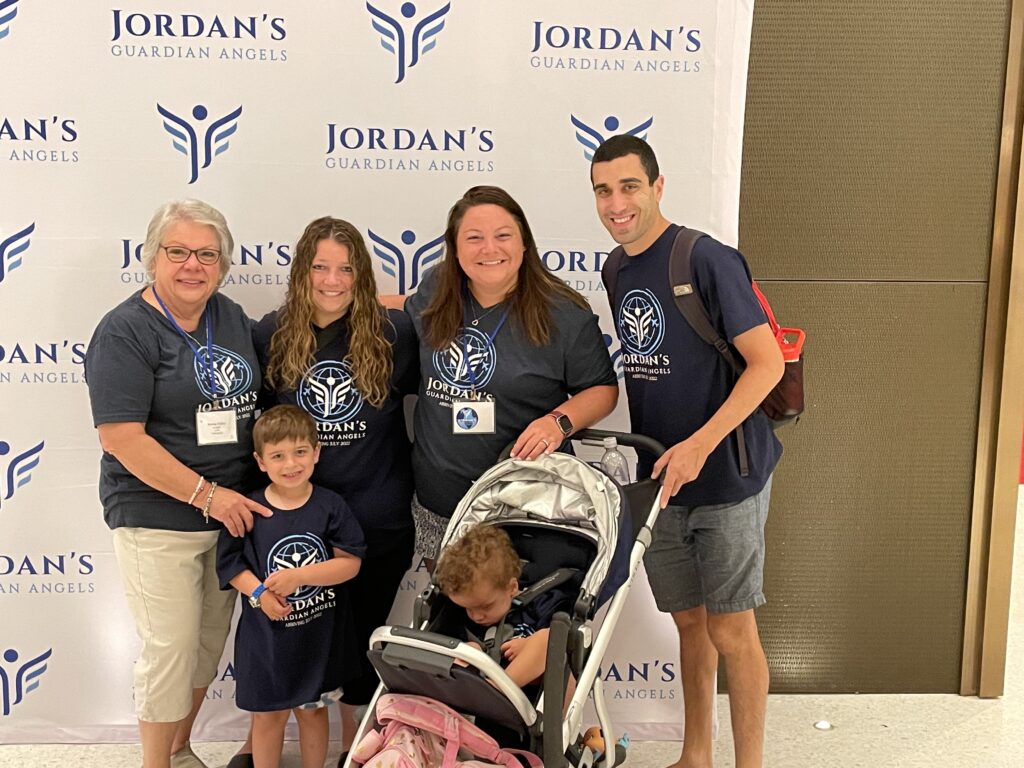 There were so many highs and lows of the conference. Hearing stories about family members who have passed were tough, but seeing how they fight on for so many of the children and share their story to help pave a way for ours, is what I call true selflessness, compassion, love, and pure magic.
My husband, who at times, when it comes to emotion is rather stoic, shed more tears in two days than I have seen in the lifetime we have shared together thus far. Seeing his love for our children and the drive that he has to change the world to make the place more equitable for our girl, has brought me to the deepest level of love that I think could exist in someone's heart.
Hugging my friends, watching our children interact, seeing the siblings play and enjoy their time, brought together by the most driven foundation I have witnessed, seems like a dream.
Jordan's Guardian Angels is not just a nonprofit organization, but it is made up of a team of people who truly love and care about our kids.
Watching the research team share in these moments with our families, seeing that it isn't just numbers and science for them, was what drove me to tears so many uncountable times. They truly are inspired by our children and I know in my heart it is only a matter of time. And we, too, are inspired by them, who work tirelessly every day to find a path, a way, to solve the case, and help our babies lives become a little easier.
What really got me, what really dove deep into my soul, was seeing other children, other adolescents, who looked like my girl. I remembered the isolated time when I searched endlessly for hours on the internet trying to find an answer- someone who looked like my Hailey. But seeing my girl, in so many of these children, brought me a relief and comfort that I didn't know existed.
Hearing a mother talk about her daughter, reminding us parents that our children understand, that our children are always listening, that our children who cannot always communicate, are here and it is our job to make sure that they are heard. Never underestimate their worth.
My biggest takeaway from this conference wasn't about how science is progressing rapidly, or how one day we will be coming together to celebrate a treatment or cure for our children…My biggest takeaway from this weekend was gaining another family who may not live close by in proximity, but they are only a call, message, or video away. I have this family who will always share something that no one else will fully understand.
To all my Jordan's angels who I had the honor and privilege of meeting this weekend, to all of my new friends who shared a hug, a chat, or a wonderful nugget of wisdom, I miss you and love you all.
Remember, if you are in a place where you are feeling stuck or unsure about your or your child's future, remember, the sky is the limit.